Artemis is owned and run by a husband and wife team, Jennifer Mitchell and Tim Showalter.


About Jennifer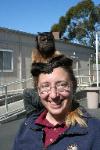 I am a graduate of Moorpark College's Exotic Animal Training and Management program. I'm using the knowledge I gained there to start a business training and caring for animals here in San Jose, CA, and the surrounding areas. I believe that many pet owners with exotic and unusual pets are under-served by the training and pet-sitting community, which focuses primarily on dogs and cats. While I love working with cats and dogs, I am also highly trained in the safety and care of exotic and unusual animals, and would love to provide help for those who just can't find a professional to train their pets, or who would love to go on vacation with the peace of mind that comes from knowing someone experienced with dangerous animals is taking care of their pets while they're away.

I, like many pet owners, also have a soft spot for disabled, elderly, or infirm animals. At Moorpark, I received an education in basic veterinary skills, so I can help pets that require daily medication, either orally or in the form of an injection. I'm also trained in pet first aid. If you want a caring professional who can keep your pet healthy while you are away but without having to pay exorbitant vet or vet tech prices, I can help you.

I received an A.S. in Exotic Animal Care and Management, an A.S. in Animal Training, and an A.S. in Wildlife Education (as well as certificates in all three disciplines). In addition to that, I hold two B.A. degrees from the University of Wisconsin at Madison, one in English and one in Theater and Drama: Specialist in Acting. I choose to care for animals because they make me happy, I know I'm doing something positive in the world, and I also like working outside and helping people.

I do all of the pet care, dog walking, and animal training for Artemis.


About Tim
I help Jennifer by supporting the Web site and setting fees. Basically, I'm the CFO for Artemis.

I have a B.S. degree in Computer Science from Carnegie Mellon University. When I'm not helping my wife, I'm working full time at Yahoo!, tinkering with computers at home, repairing and restoring arcade an pinball games, playing poker and board games, and hanging out with our cats.